Choose a template and click on Personalize, this will take you to the editor page
On the left-hand side is your photo gallery, click + Add photos

You will be able to view all photos you have already uploaded to Smilebox and also have the several options to add more;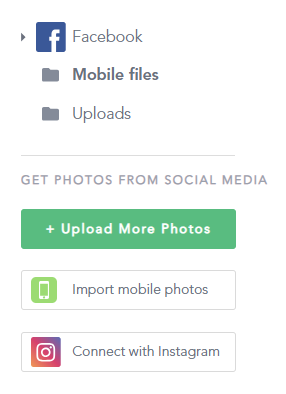 Click on + Upload More Photos to browse the files on your computer
You can then click on the ones you would like to use in your creation
To clear the photos in your Photo gallery on the editor page, click on Delete all photos at the bottom of the gallery. 
Adding photos from your mobile: 
Click on Import mobile photos
You will receive a text on your phone, with a link. 
Follow the instructions, you can import one photo at a time.  
You will receive a notification on Smilebox when a photo has been successfully imported.  
You can view all the photos you have imported by clicking on Mobile files.
Once you have chosen which photos to use in your slideshow and added them to your photo gallery in the editor, click on a slide and then click on a photo or drag it to the slide.
Currently, you can upload only JPG and PNG files.