Are you considering canceling your event?

We understand you may be looking for solutions to cancel your scheduled events. We want to make it worry-free for you to cancel your event with ease.

Below, we have provided step-by-step instructions for canceling your event.
First, click on the My Creation Icon on the home page. Here you will find all your saved creations.
Second, you can easily filter through all your saved creations by choosing the type of template/design you used. In this case, you will need to click on the Invitation.
Third, click the X (cancel) button.

Now click the YES, CANCEL EVENT button.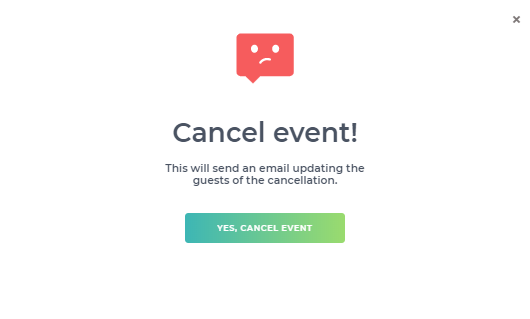 Your guests will receive an email notification that the event has been canceled.
The event will also show as canceled on the My Creations page.
If you want to activate your event again, you can simply click the edit icon, which will take you back to the Editor. Here you can update the date and time of your event. You are also able to adjust any details such as the location if your event happens to change venues in the future.
For full directions on how to reschedule your event, please view our article on how to edit your event.
Enjoy, and remember that if you have any questions regarding your creation, just contact us.