*Business users have the option of adding multiple songs
Choose a template, and click Personalize.

This will take you to the editor page.
On the right-hand side of the page, you will see Playlist and a downward-facing arrow, which indicates a drop-down button. Click this to view song options.

Click Upload music at the bottom of the list of songs, to upload your own music.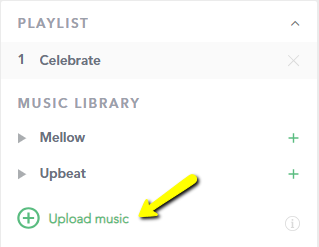 After you have successfully uploaded your music, it will automatically appear in your music library. Then click the "+" sign to add the song to your playlist.
Useful tips!
You can add up to 3 songs.
The song must be in an MP3 format.