All Smilebox subscriptions are billed on an auto-renewal basis unless canceled prior to the renewal date.
Smilebox currently offers, two types of subscription:
When you purchase a subscription, you will be billed immediately.
You can cancel the renewal at any point during the subscription period. This will not cancel the current active subscription, but only the auto-renewal.
You agree to our Terms of Service and Privacy Policy upon signing up for a Smilebox account.
To check that your subscription is canceled, and you will not be billed for renewal, go to your Account Settings. If it is canceled successfully, there will be a note and the date when your subscription will expire.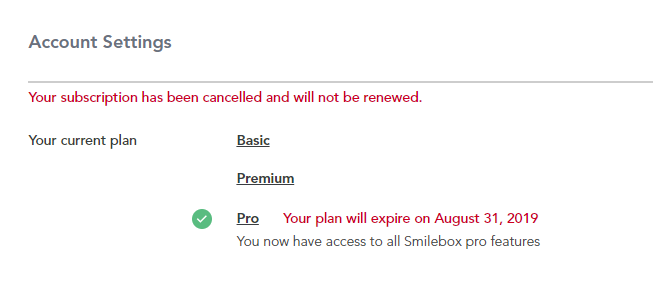 For more information on how to cancel your subscription renewal, please see our article: How to Cancel Your Smilebox Subscription.
Enjoy, and remember that if you have any questions regarding your creation, just contact us.