All Smilebox subscriptions are billed on an auto-renewal basis unless canceled prior to the renewal date.
Smilebox currently offers, two types of subscription:
Subscriptions can be purchased on a monthly or annual basis.
When you purchase a subscription, you will be billed immediately.
You can cancel the renewal at any point during the subscription period. This will not cancel the current active subscription, but only the auto-renewal.
On signing up for a Smilebox account, you agree to our Terms of Service and Privacy Policy.
To check that your subscription canceled and you will not be billed for renewal, go to your Account Settings. If you successfully canceled, there will be a note and the date when your subscription will expire.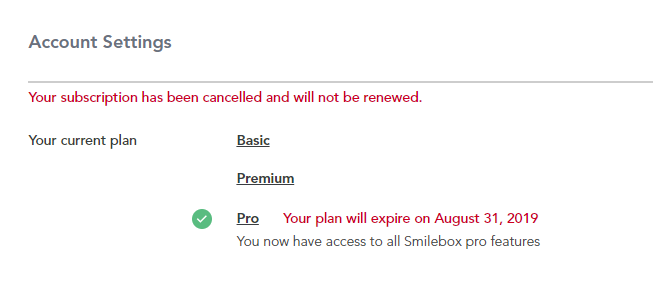 For more information on how to cancel your subscription renewal, please see our article: How to Cancel Your Smilebox Subscription.