When printing creations from Smilebox at home, we suggest setting the size to 4×6" or 5×7". These sizes fit the standard photo album. This can be done on A5 printing paper, or twice on an A4 sheet of paper if you need multiple copies.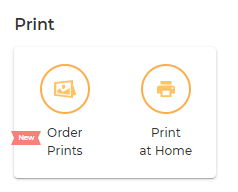 Most printers are set to print on A4 as default. Before printing, you can adjust the settings to the following:
Size

– Set to A5 (148 x 210 mm)
Layout - Landscape
Paper Type - Document or photo paper
Paper Quality - When printing to A5, you need to pick the correct quality.
Tips:
Use photo paper, as this gives a beautiful and professional finish.
For certain occasions, e.g. a hard copy invitation, sending the design to a professional printer can make a huge difference in the quality of the results. You can easily send the creation online to the printers.
Enjoy, and remember that if you have any questions, just contact us.