Upload and store your photos in Smilebox, for easy use, time after time.
After you've chosen a template, click Personalize to take you to the editor page.
A pop up will appear, with options to add your photos.

To add them later, click the x in the corner and continue with your creation.
The photo well appears on the left-hand side of the editor.
To add photos, click + Add photos.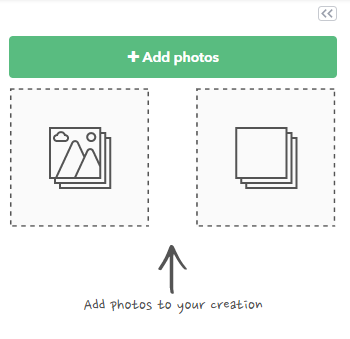 You can view all the photos that you previously uploaded by clicking Add From My Gallery or chose another option to add more;

Click Upload Photos to browse files on your computer.

To upload photos from your mobile, click Mobile Import.

You will receive a text to your phone, with a link.
Follow the instructions; you can import one photo at a time.
After you import a photo, you'll receive a notification of confirmation on Smilebox.
You can view all your imported photos by clicking Mobile files.
After selecting your photos, pick a slide and click on the photo or drag-and-drop it to the photo area on the slide.
To remove all photos from the photo well, click Delete all photos at the bottom of the Photo Well.
To remove individual photos, click on the one you want to delete and click the dustbin icon.
Note: You can upload only JPG and PNG files.