If you experience problems logging in, loading templates, your screen freezing, or rendering is slow, it might be time to clear your browser's cookies and cache.
When you visit different websites, your browser saves data in temporary storage. Cookies and cache are types of data stored on your computer to improve the speed of web browsing.
However, they can cause technical problems, and it is useful to clear them periodically.
Bugs when using a website:
The cache files stored represent a snapshot of a web page or website at a given period of time. These saved files prove problematic if the site owner introduces a new feature or update that affects how the site functions.
Browser function is slow:
Web browsers save cookies as files to your hard drive. They're small (only a few KB), but over time, you can accumulate a lot of them. This volume means your web browser must use more and more computing power to properly load saved web pages, which means your browser sessions will likely get slower and slower.
Depending on the browser you are using, there will be slight differences in how to clear cookies and cache.
Chrome:
Open a Chrome window
On the top-right, click the Hamburger.
Click More tools > Clear browsing data.
At the top, choose a time range. To delete everything, select All time.
Check the boxes for 'Cookies and other site data' and 'Cached images and files'.
Click Clear data.
There are many sites you can use to look up how to clear your cookies and cache on the browser you are using, for example, https://clear-my-cache.com/windows.html
Also, you can simply click on the lock button on your browser and remove cookies directly from there: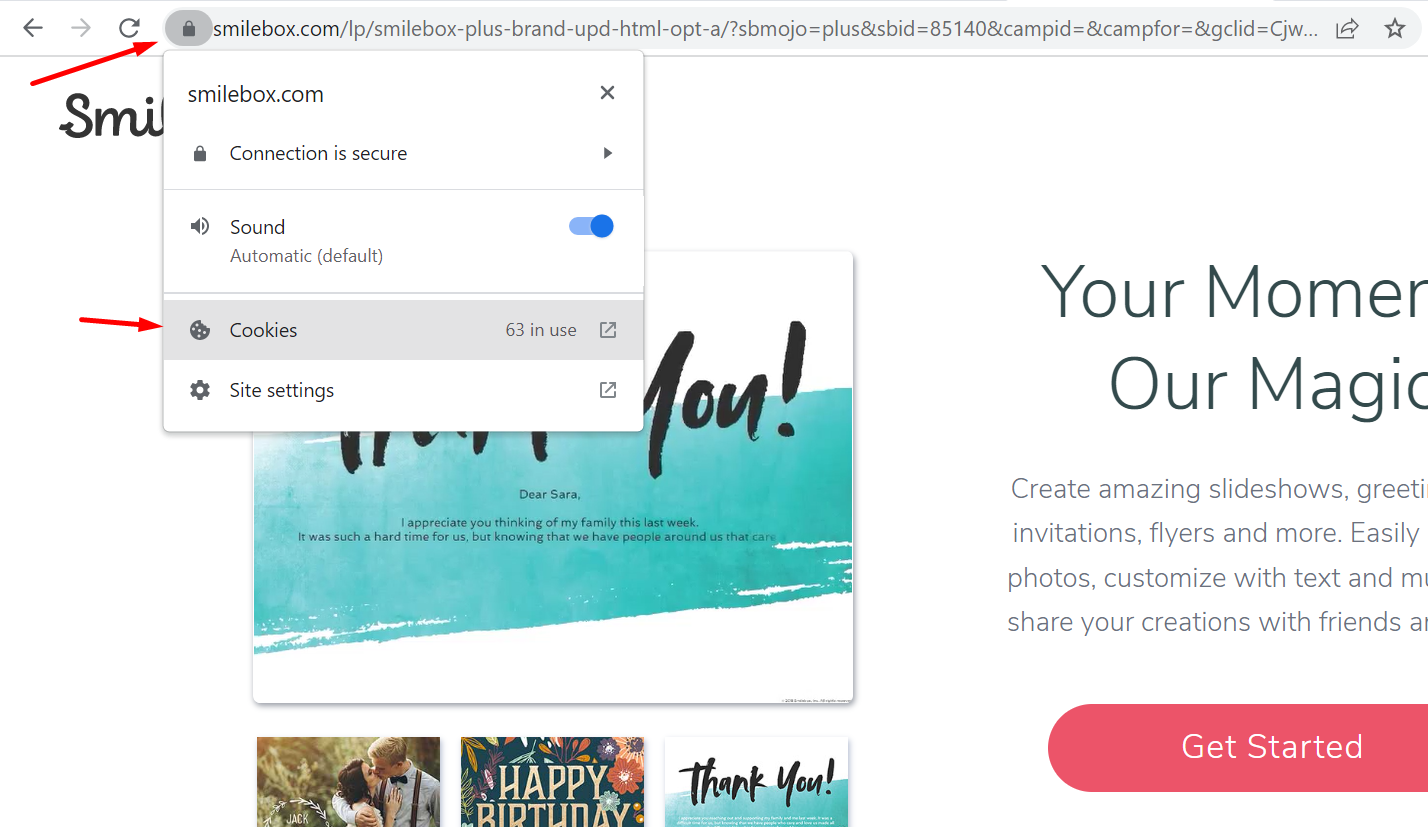 And remove all Smilebox-related cookies:
NOTE: After clearing cookies, your browsing history is cleared. If you previously logged into programs and saved your password, so you can automatically log in the next time you visit, this information will be deleted, and you will need to log in again.
Remember that if you have any questions, just
contact us
.