Our play page lets your recipients engage with your creation in a fun and simple way.
1. From the homepage, click on My Creations tab.

2. Find the creation you would like to review. From the screen, you can quickly see the number of recipients who have engaged with your creation.
e.g., for the below creation, there is one like and one view.

3. To see who it was who liked your creation, click the thumbs up Like icon. The email addresses of the recipients who liked the creation will be listed in your My Creation statistics.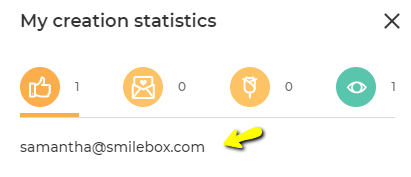 4. To see who viewed it: click the "eye" symbol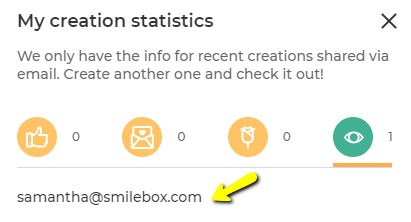 You can also see who chose to engage using other types of emotions;
Thank you (envelope)
Sympathy (flower)
Having spent time on your creation, getting feedback is always great and being able to do this all in one place is a fun and easy way to communicate with your recipients.