Quickly replicate your favorite creations with the Smilebox Duplicate feature.
This feature is available for Pro users.

If you do not have Pro, you will see the gold crown appear over the Duplicate icon.
If you try to click it, it will show that you are blocked and you need to upgrade.
To duplicate a creation, go to the My Creations tab on the homepage.
Choose the creation you would like to replicate and click the 3 dots,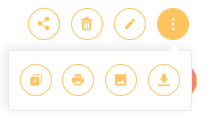 then the duplicate button.

This will open up the duplicate version of the creation in the editor page.
You can make any changes to this copy of the creation.
You can even save the creation using the same name (this will be done by default). However, we suggest using another name.
After you save it, it will be saved in your My Creations tab alongside your other creations.
The date your creation was created is also recorded on the My Creations page.
See the different creation dates as shown in the example below: